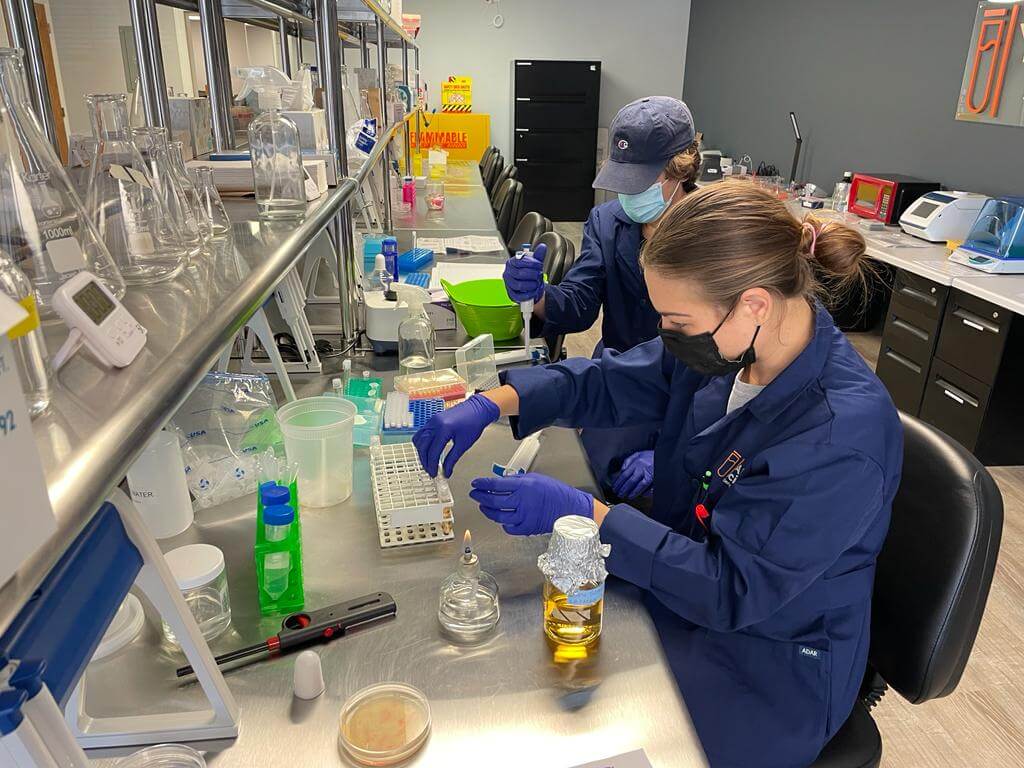 High School
HIGH SCHOOL CHEMISTRY
In this 4-day chemistry course, students will gain proficiency in topics such as atoms, the periodic table, ions, acids, bases, buffer systems, and organic molecules. By utilizing hands-on lab facilities students will also become well-versed in laboratory safety and experimental techniques. A strong emphasis is placed on real world application of these laboratory procedures and the potential careers that can result through the study of chemistry.
PRE-MED/SURGICAL
This 8-day course is for students interested in anatomy, physiology, surgical specialties, and biomedical engineering. In a hands-on setting, students will progress through the Surgery Basics & Suturing Workshop, Pulmonology Part 1, Anesthesiology Part 1, Interventional Spine & Spine Surgery, Orthopedic Surgery, and Vascular Surgery modules.
MOLECULAR BIOLOGY
This 8-day lab course is for students interested in biological sciences, genetic engineering, and laboratory research/experiments. In a hands-on setting, students will learn Molecular Cloning, Bacterial Plating, Plasmid Mini-Prep, Gel Electrophoresis, Primer Design, Polymerase Chain Reaction (PCR), DNA Sequencing, and Mutation Analysis.
CRISPR CAS 9 GENOME EDITING
In this 3-day CRISPR course, students will learn about genetic modification, the mechanics of DNA and related enzymes, and CRISPR's real world uses such as curing diseases. CRISPR Cas-9 is cutting edge technology used to cut out and replace fragments of DNA in order to change a gene. Using hands-on lab facilities, students will grow bacteria, edit the lac-z gene of E. coli, and observe the changes on bacterial plates. They will evaluate whether or not the gene will still be displayed under different circumstances.
EXOTHERMIC AND ENDOTHERMIC REACTIONS: FROM CHEMISTRY TO COMMERCE
Produce an endothermic reaction and monitor the change in temperature before examining the mechanism behind a commercial instant cold pack. Then investigate heat packs, or hand warmers, and how they take advantage of exothermic reactions with the oxidation of iron.
SEPARATION TECHNIQUES: TAKING IT ALL APART
Explore several methods to separate compounds. Use thin layer chromatography, ion exchange, size exclusion, and hydrophobicity to isolate components of substances or mixtures.
THE PRACTICAL POWER OF ENZYMES
Expose three nutrients (carbohydrates, proteins, and lipids) to different digestive enzymes and perform chemical tests to determine if the enzymes were effective in digesting the compounds relative to a control. Gain an appreciation for the vital role enzymes play in releasing nutrients from food and converting them to a form usable by the body.
ENGINEERING A DRUG DELIVERY SYSTEM
Become a biomedical engineer on a quest to design devices, equipment, and processes to improve the quality of human life. Your task is to design a drug delivery system which can control the transport and release of medicine in the body to treat diseases more effectively. Test simulated delivery systems in ways that mimic different parts of the body. Gain an understanding of what properties must be considered when designing new drug delivery systems, and then analyze and compare different delivery systems to engineer an optimal solution.
EXOTHERMIC & ENDOTHERMIC FROM CHEMISTRY TO COMMERCE

$150.00

HIGH SCHOOL

TUESDAY 11/28/2023

Buy Now

6:00PM-8:00PM

SEPARATION TECHNIQUEST: TAKING IT ALL APART

$150.00

HIGH SCHOOL

TUESDAY 12/5/2023

Buy Now

6:00PM-8:00PM

THE PRACTICAL POWER OF ENZYMES

$150.00

HIGH SCHOOL

TUESDAY 12/12/2023

Buy Now

6:00PM-8:00PM

ENGINEERING A DRUG DELIVERY SYSTEM

$150.00

HIGH SCHOOL

TUESDAY 12/19/2023

Buy Now

6:00PM-8:00PM

CRISPR CAS 9 GENOME EDITING 3-DAY

$799.00

HIGH SCHOOL

FRIDAY-SUNDAY 12/8/2023, 12/9/2023, 12/10/2023

Buy Now

FRIDAY 6:00PM-9:00PM, SATURDAY & SUNDAY 1-4PM

Chemistry 3-Day

$799.00

HIGH SCHOOL

TUESDAYS 11/7/2023, 11/14/2023, 11/21/2023

Buy Now

6:00PM-9:00PM

MOLECULAR BIOLOGY + HYBRID LAB SAFETY CLASS 4-DAY

$1,299

HIGH SCHOOL

SATURDAY & SUNDAY 11/4/2023, 11/5/2023, 11/11/2023, 11/12/2023

Buy Now

1:00PM-4:00PM

MOLECULAR BIOLOGY + HYBRID LAB SAFETY CLASS 8-DAY

$2,499

HIGH SCHOOL

Option 1: WEDNESDAY & FRIDAYS 10/11/2023, 10/13/2023, 10/18/2023, 10/20/2023, 10/25/2023, 10/27/2023, 11/1/2023, 11/3/2023

Buy Now

6:00PM-9:00PM

Option 2: SATURDAYS & SUNDAYS 11/4/2023, 11/5/2023, 11/11/2023, 11/12/2023, 11/18/2023, 11/19/2023, 12/2/2023, 12/3/2023,

Buy Now

1:00PM-4:00PM

PRE MEDICAL/SURGICAL + HYBRID LAB SAFETY CLASS 4- DAY

$1,299

HIGH SCHOOL

Mondays 10/16/2023. 10/23/2023. 10/30/2023, 11/6/2023

Buy Now

6:00PM-9:00PM

PRE MEDICAL/SURGICAL + HYBRID LAB SAFETY CLASS 8-DAY

$2,499

HIGH SCHOOL

Mondays 10/16/2023, 10/23/2023, 10/30/2023, 11/6/2023, 11/13/2032, 11/20/2023, 11/27/2023, 12/4/2023

Buy Now

6:00PM-9:00PM

SCIENCE FAIR PROGRAM (PREREQUISITE REQUIRED-MUST TAKE MOLECULAR BIOLOGY 4 DAY OR 8 DAY COURSE PRIOR TO STARTING SCIENCE FAIR)

$5,000

HIGH SCHOOL

REGISTRATION NOW OPEN-CALL FOR DETAILS

Buy Now

SEPTEMBER-MARCH

YEARLONG MEDICAL WRITING (PREREQUISITE REQUIRED-MUST TAKE PREMED/SURGICAL COURSE PRIOR TO STARING YEARLONG PROGRAM)

$5,000

HIGH SCHOOL

REGISTRATION NOW OPEN-CALL FOR DETAILS

Buy Now

Virtual Meetings